Services
Swannanoa Cleaners knows how to clean and launder your wardrobe! From standard cotton business shirts, to delicate twin sheets, you can trust us! We clean it all! From leather items to fur garments, we put our best foot forward for you.
We specialize in:
Suits
Dresses
Sweaters
Shirts/blouses
Jackets
Pants
Skirts
Dress shirts
And more!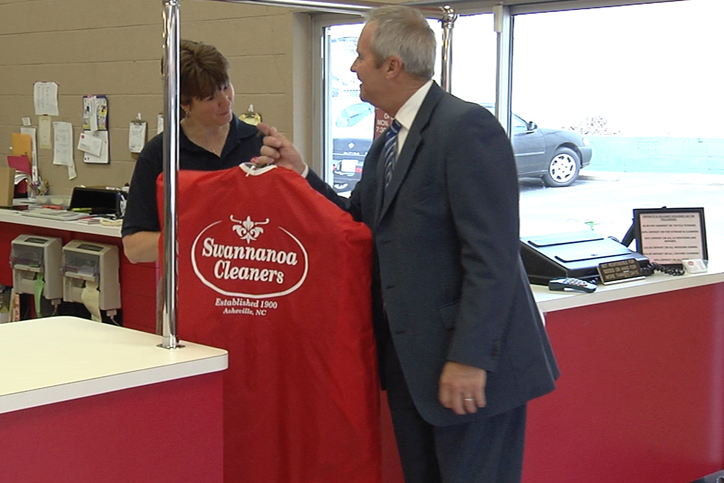 Red Bag Service
Frequent customers qualify for a sturdy red garment bag! It's a handy way to transport your soiled garments to our office and your freshly cleaned one's home again!
Leather
We're masters at professionally cleaning leather garments. Perspiration, perfume and smoke can damage your garments and jeopardize your investment. We encourage at least annual cleaning of your valuable leather garments. We clean handbags, luggage, belts and portfolios, giving the same care and attention to all your leather. Remember: when it comes to performance, we put our best foot forward for you!
I can't say enough about the excellent service and very friendly staff at Swannanoa Cleaners East. They are always willing to help and I consider them as friends. I have used them for over 30 years and wouldn't even consider going anywhere else.
Storage for Furs
You can trust your valuable fur garments to Swannanoa for gentle, careful cleaning and you can store your beautiful furs in our temperature and humidity controlled cold storage vaults where they will be safe from moths and other insects.
Garment Storage
When winter ends, give your closet a break! Bring your out of season garments to Swannanoa for professional cleaning and storage!
Join Our Team
Swannanoa Cleaners is currently hiring at several locations!  We offer great pay, hours & benefits!  Contact Marvin Thomas at [email protected]. We look forward to hearing from you!
Dear Swannanoa,  Just wanted to tell you that your employee Vicky Hyder at your Merrimon Ave. store is a real treasure. She is always so helpful and sweet, and she is a wonderful representative of your company.  We appreciate your excellent cleaning all these years–44 to be exact!
Fine Linens
We clean, block and hand finish heirlooms of yesterday and tomorrow with special care and attention!
Specialty Cleaning
You can keep your home clean and fresh throughout the year simply by entrusting your home accessories and fine linen to Swannanoa Cleaners. Size, weight, fabric and finish can prevent you from properly cleaning items such as draperies, blankets, bedsheets, comforters and dust ruffles. We specialize in:
Window treatments
Down comforters
Accessories
Fine heirlooms
Tablecloths
Lace cutworks
Bridal Registry
You may wish to include a Gift Certificate or a contribution toward the cleaning and preservation of your gown among your Gift Registry selections. Family, friends and co-workers can obtain certificates from our main office.
5 Star Review for Swannanoa Cleaners on Merrimon…
Quality work and first class friendly service…Vicky runs a top notch business where you can count on a job well done every time!!
Bridal Gowns
Imagine how proud she'll be wearing her mother's gown as she walks down the aisle. Make sure it's as perfect as the day you
wore it with our professional quality cleaning and preservation services.
Heirloom Garments
Vintage clothing and heirloom garments are cleaned and professionally stored. We're masters are rejuvenating fine items.
Damage Restoration
Trust our experts to restore your wardrobe and household items from the odors and stains caused by unfortunate disasters at home.
I recently took a coat to be cleaned at Swannanoa Cleaners. A lady called me and explained some issues with dry cleaning the coat. I am very impressed that someone would take the time to let me know that dry cleaning this coat was not a good idea. They could have dry cleaned it and then just said " oh no!" Thank you SC for being kind and actually caring!
Our Locations
Check our Google Listing or FB for up-to-date hours as hours may change due staffing.
(Click each address for directions)