Services
Swannanoa Cleaners knows how to clean and launder your wardrobe! From standard cotton business shirts, to delicate twin sheets, you can trust us! We clean it all! From leather items to fur garments, we put our best foot forward for you.
We specialize in:
Suits
Dresses
Sweaters
Shirts/blouses
Jackets
Pants
Skits
Dress shirts
And more!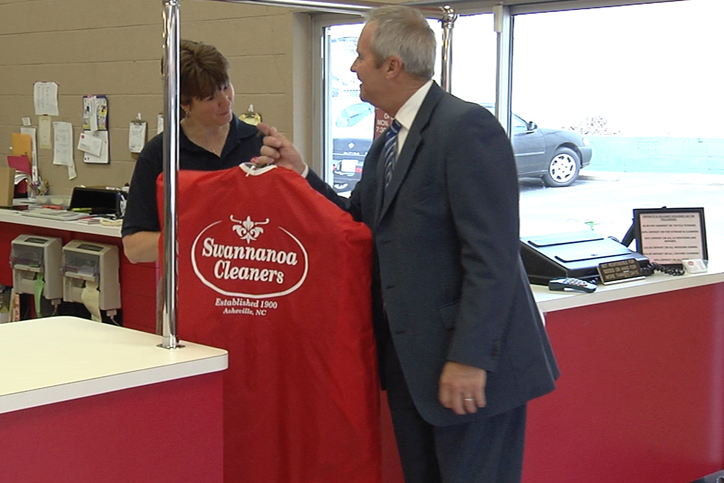 Red Bag Service
Frequent customers qualify for a sturdy red garment bag! It's a handy way to transport your soiled garments to our office and your freshly cleaned one's home again!
Leather
We're masters at professionally cleaning leather garments. Perspiration, perfume and smoke can damage your garments and jeopardize your investment. We encourage at least annual cleaning of your valuable leather garments. We clean handbags, luggage, belts and portfolios, giving the same care and attention to all your leather. Remember: when it comes to performance, we put our best foot forward for you!
Storage for Furs
You can trust your valuable fur garments to Swannanoa for gentle, careful cleaning and you can store your beautiful furs in our temperature and humidity controlled cold storage vaults where they will be safe from moths and other insects.
Garment Storage
When winter ends, give your closet a break! Bring your out of season garments to Swannanoa for professional cleaning and storage!
Repairs & Alterations
We're happy to do repairs and alterations to your garments. If you found a great bargain on a new garment, don't worry about getting the hem adjusted! If your puppy is going through the (adorable) chewing state and damaged your best sport coat, come see us! We're happy to help.
Fine Linens
We clean, block and hand finish heirlooms of yesterday and tomorrow with special care and attention!
Specialty Cleaning
You can keep your home clean and fresh throughout the year simply by entrusting your home accessories and fine linen to Swannanoa Cleaners. Size, weight, fabric and finish can prevent you from properly cleaning items such as draperies, blankets, bedsheets, comforters and dust ruffles. We specialize in:
Window treatments
Down comforters
Accessories
Fine heirlooms
Tablecloths
Lace cutworks
Bridal Registry
You may wish to include a Gift Certificate or a contribution toward the cleaning and preservation of your gown among your Gift Registry selections. Family, friends and co-workers can obtain certificates from our main office.
Bridal Gowns
Imagine how proud she'll be wearing her mother's gown as she walks down the aisle. Make sure it's as perfect as the day you
wore it with our professional quality cleaning and preservation services.
Heirloom Garments
Vintage clothing and heirloom garments are cleaned and professionally stored. We're masters are rejuvenating fine items.
Damage Restoration
Trust our experts to restore your wardrobe and household items from the odors and stains caused by unfortunate disasters at home.
Our Locations
Normal hours for all locations:
M-F 7:30AM-6PM
SAT 7:30AM-1PM
SUN Closed
(Click each address for directions)